PennDOT invited students to participate in their Paint the Plow Program that extends to many other areas of the state including the high schools in all six counties near us. The Paint the Plow Program is a way for PennDOT and the local community to cultivate public awareness and promote winter driving safety on state roadways. The high school students were invited to paint creative original artwork onto a PennDOT snowplow blade. This year's theme invited the students to come up with a creative design that embodies their school's unique characters and school spirit as well as incorporating parts of the school that they take pride in. The decorative blades will reflect each school individually and will have the ability to be visible during the winter snow removal on various roadways in the region. Carbondale Area Advanced Art students took part in this program.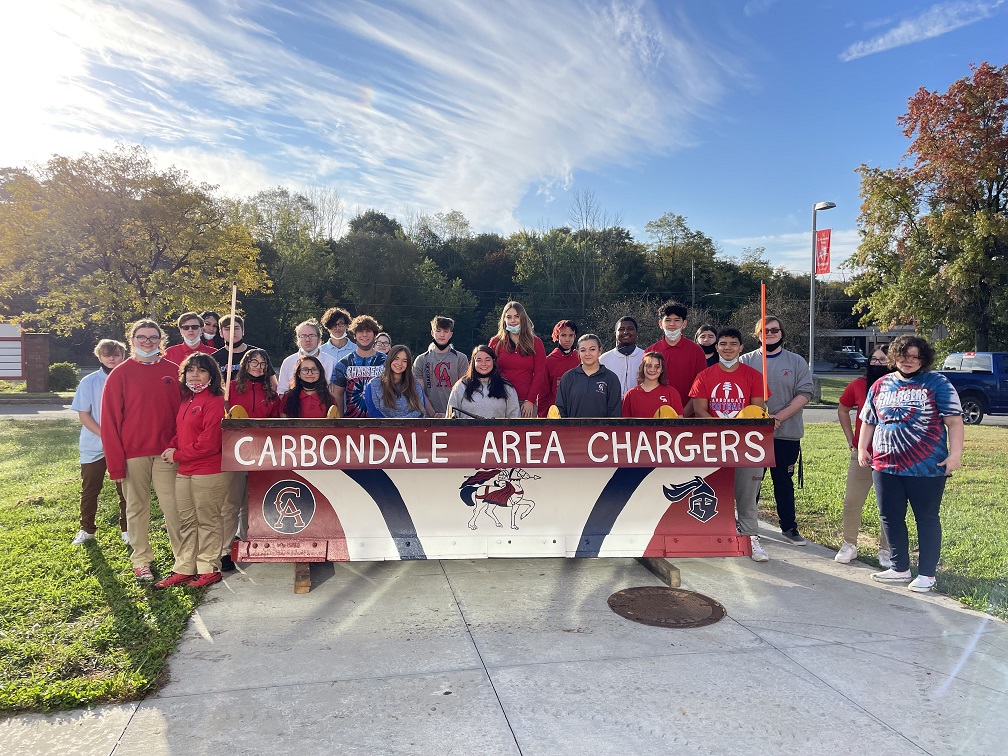 The efforts were led by CA's new high school art teacher, Ms. Alyssa Pezzuti. "All of my Advanced Art 1,2, & 3 students were thrilled to hear that we were participating in PennDOT's Paint The Plow Program," noted Pezutti. "At first the students were a little confused as to how we were actually going to paint a real snowplow but once I explained that we needed a special protective paint they understood and were excited to get started. The student's enthusiasm to participate within their community blew me away as well as their artistic abilities and creative ideas. Both myself and my students are proud to be a part of such a strong community like Carbondale. We are ready for the Carbondale Pride snowplow to take on the heavy snow this winter."
Sophomore Anthony Byfield echoed his art teacher's sentiments about doing something positive for the community. "It was an honor to really be a part of something where we are giving back to the community. It makes us students feel empowered to make a piece of art work that symbolized greatness."
"Painting the plow was a great opportunity for us, and we got to have fun while doing it," explained junior Josalyne Livingston. "It took some hard work and creativity. My peers and I take pride in the work we have done and cannot wait for everyone to see it."
The Carbondale Area School District congratulates Ms. Pezzuti and her classes on a job well done. We look forward to seeing the plow out on the road. #CAProud
Below is a photo gallery of pictures taken during the painting of the plow.