Carbondale Area hosted a "CA Strikes out Cancer" Big Ball Fundraiser in memory of the late Steve DePalma, who passed away earlier this year from cancer. Steve was the father of sophomore baseball standout Vinny DePalma and former Carbondale Area standout athlete Marino Depalma, Carbondale Area Class of 2019. Steve's wife is Jaime DePalma.
The event was organized by teachers Sean Mangan, Monique Cobb, and Ann Andrews. There were three games in the event: First, a Faculty versus Students game was played, followed by a CA Baseball versus CA Softball game. The evening concluded with a CA Alumni game with Marino and his friends versus Steve's old Big Ball team. The Carbondale Area community showed great support for the DePalma family, with everyone sporting t-shirts that had Steve's famous quote: "We have one job to do, go do it, and do it well." A concession stand was open, and everyone had a wonderful time.
"It is hard to put into words how happy it makes me to be a part of this school community and to be able to organize this opportunity for everyone to come together after such a challenging year," explained Mrs. Cobb.  "This small town of Carbondale never ceases to amaze me with their outpouring of support for those in need. The amount raised far exceeded our expectations and will go to good use."
The Faculty lost to the Students in the first game by a score of 1-0, when Vinny DePalma ripped off an inside-the-park homerun. In the second game, the baseball team defeated the softball team by a score of 12-2. The final game of the evening was won 12-5 by Marino's team against his dad's old Big Ball team, whom his brother, Vinny, pitched for.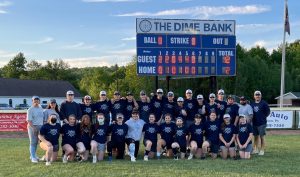 Vinny spoke about his father after the game. "He really always taught me and my brother to just work hard in anything, whether it was to help him in a job, our schoolwork, and sports, anything really. He taught us to take pride in your work and if you're going to do something, do it to your full potential. He also stressed that you are nothing without your loved ones." Vinny was happy with how the event turned out. "I was really happy with it [Big Ball Fundraiser]; it was a really positive and uplifting event. Baseball was something I always bonded over with my dad and family, so this was perfect to honor him this way."
The entire Carbondale Area family wishes nothing but the best to the DePalma family through this difficult time and is always here to support them. #CAStrong