For the second year in a row, Carbondale Area held its commencement ceremony on the football field of the Andrew J. Cerra Sports Complex. The evening started with a parade around downtown Carbondale. The seniors then met in the gym and marched out onto the football field. They were greeted by school administration, board directors, faculty, family, and friends.
Mr. Carm Perri, English teacher, was the Master of Ceremonies who introduced all of the speakers. First, Salutatorian Emily Kelly addressed the class. She spoke about her early struggles and how she persevered to earn a full scholarship to the University of Arizona, where she plans to study Physics and Astronomy with the goal of eventually earning a doctorate degree. "It was very rewarding to know that all of my hard work throughout high school had paid off when I was announced to as Salutatorian," she explained. "In my speech I talked about personal struggles like not being able to read, how rewarding my participation in unified sports was, and I tried to emphasize that my classmates make an impact on the world and do what they feel passionate about."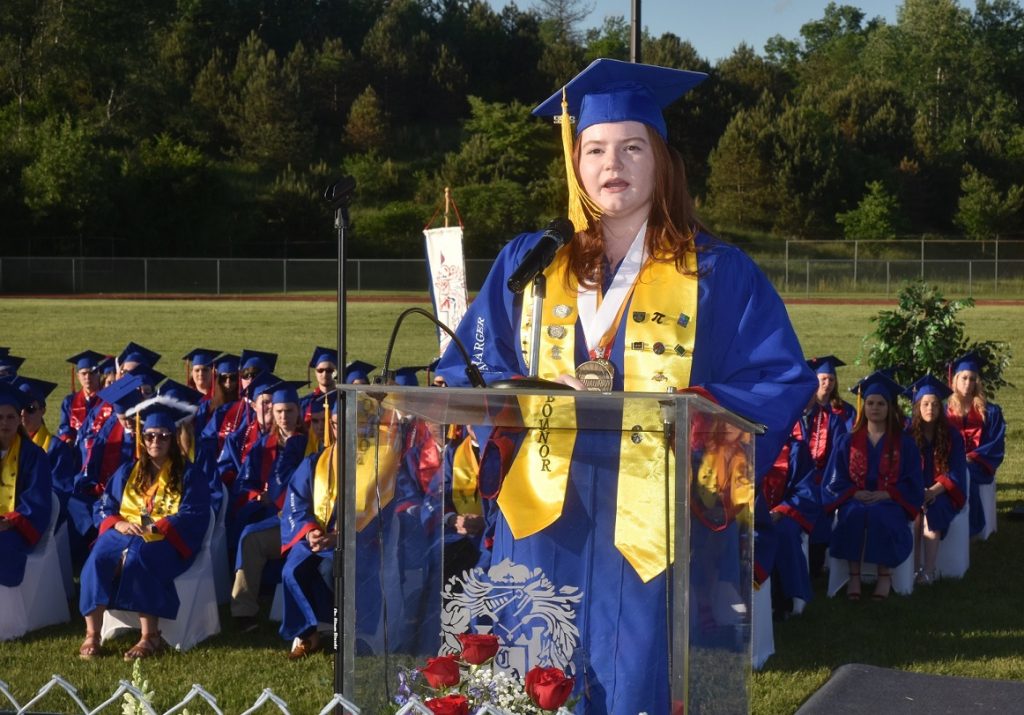 Next, Valedictorian Alyssa Cosklo, who is attending the University on the Pre-Med track, addressed her classmates. She reflected on past memories from elementary school and junior high, as well as memories from this past school years- those memories brought some laughter and smiles to the class and those in attendance. She encouraged her classmates to to their very best and make their mark on the world. "It is truly an honor that the word Valedictorian summarizes my time spent at Carbondale Area. I have made many unforgettable memories here with my friends that I would not trade for anything, and I cannot wait to see where all of our futures take us!"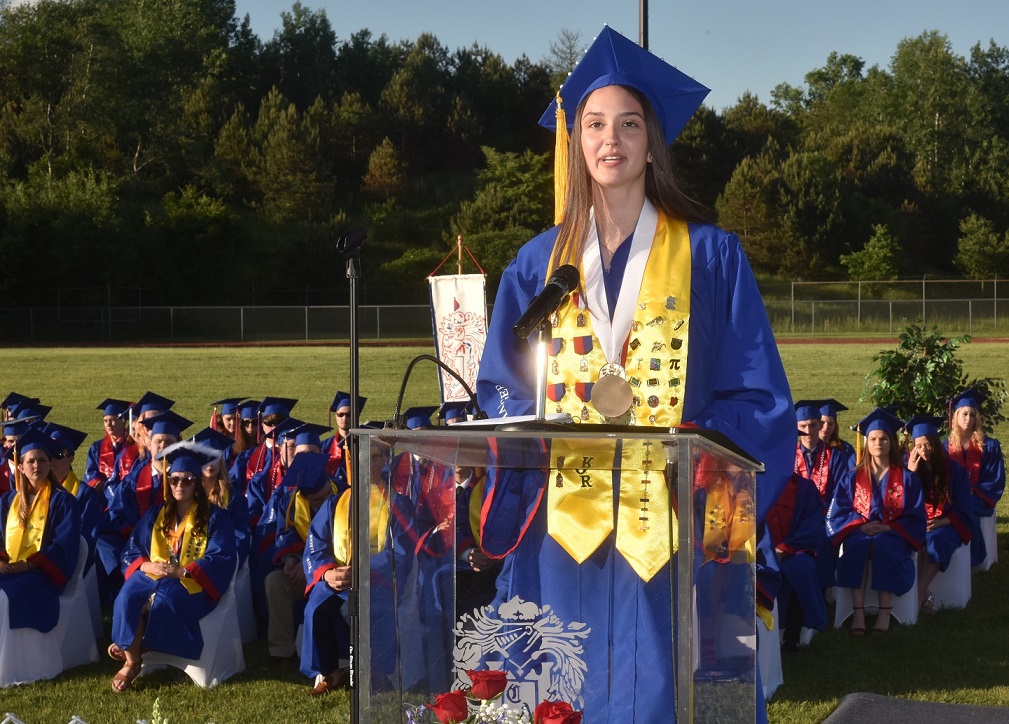 Ms. Michele Bannon was the Commencement speaker. She has been a lifelong resident of Carbondale who has been actively and passionately involved in the community her entire life. She spoke of giving back and making an impact in the community.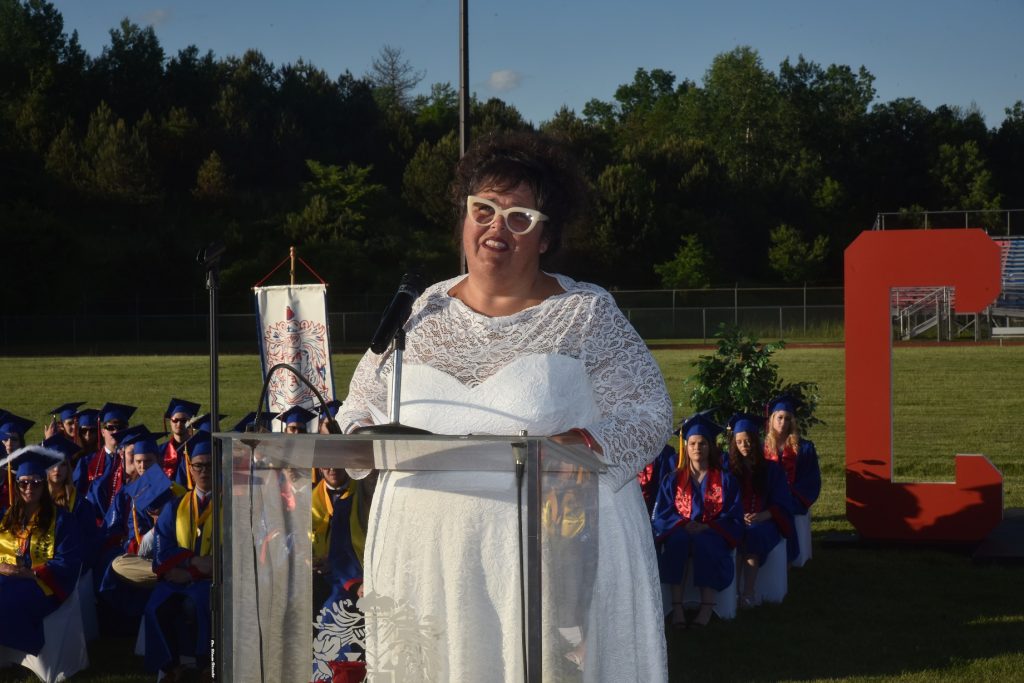 Senior Class President Alexis Price spoke to her class and passed the mantle on to Junior Class President Audrey Cobb. "Being the Senior Class President has brought me many opportunities that I will forever be grateful for," noted Price. "I was honored to just have my name on the ballot at the beginning of the year, so I give a huge thank you to my peers for trusting me to represent our class.   This is one of the greatest honors I have been given and I am looking forward to our class reunion in ten years!"
Mr. Lawrence Gabriel III, Acting Principal, and Mrs. Megan Ruggiero, Director of Guidance, announced the Schroeder Scholarship winners. They were the following: Sophia Calzola, Alyssa Cosklo, Mackenzie Edgar, Tatiana Elston-Blaustein, Ellen Higdon, Emily Kelly, Mia Perri, MaKena Sanderson, and Logan Wormuth.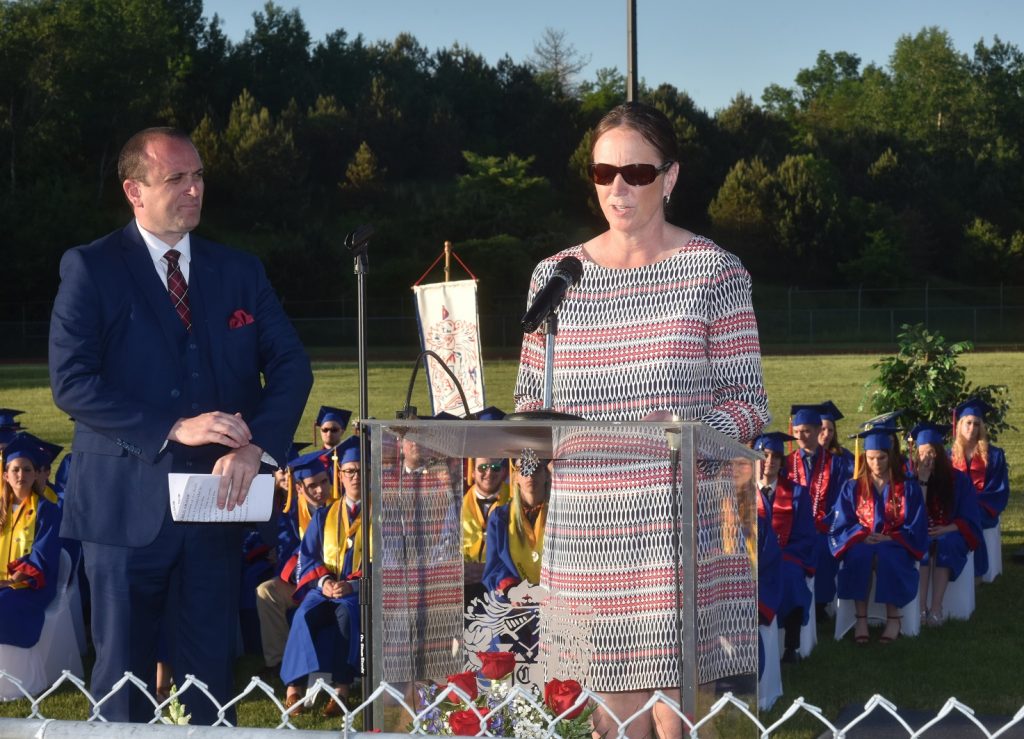 Superintendent Holly Sayre provided remarks to the senior class in her second commencement here at Carbondale Area. Dr. Gary Smedley, School Board President, handed out diplomas to each student while Alexis Price turned their tassels. Afterwards, Donnica Reese, Sophia Calzola, Rogemarie Navarrete, Reina Maldonado, and Ashley Johannes sang the Alma Mater. Finally, Mr. Gabriel officially presented the Class of 2022 as official graduates.
The Carbondale Area School District congratulates the graduates and wishes them well in their future endeavors.
We officially present the Carbondale Area Class of 2022.
Natesia Anderson, Jacob Taylor Archer, Ashton Michael Arthur, Logan Zachary Arthur, Emily Baker, Emma Baker, Killian Bannon, Daniel F. Battle, Takoda Beader, Anthony Milo Blake, Favier Rivera Boglio, Jacob Bosshard, Hannah Nevaeh Boston, Antonio Bradley, Luke Thomas Bradley, Kristana L. Buklad, Joshua Busalaachi, Sophia Calzola, Logan Thomas Clark, Logan Colonna, Alyssa Cosklo, Cameron Charles Crabe, Autumn Adalia Cruz, Thomas J. Cyganick, Francheliz Marielle DeJesus Correa, Tehya Glenn Dietrich, William Durst, Joshua Eakle, Mackenzie Edgar, Michael Ednock, Tatiana Raine Elston-Blaustein, Jaden Fedorchak, Makenna Fedorchak, Bailey Fitzgerald, Colin Fitzgerald, Rachel Frankovsky, John D. Frazier, Christopher Fuller, Nicole Renee Gaughran, Sofia Giamoni, Ashley Mae Gorel, Patricia Green, Layla Gregory, Collin Gyetvai, Jaden Jerome Harris, Mariah Faith Hastings, Gavin J. Heenan, Caleb Higdon, Ellen Higdon, Aunesty Jailin Hill, Deanna Holbert, Aveana Hund-Gately, Ashley Marie Johannes, Emily R. Kelly, Dominik Ketch, Luke Kovaleski, Alexander Laub, Conner Joseph Lewis, Eugene Michael Lloyd, Ryan Lloyd, Michaella Lombardo, Connor Ray Long, Aiden Edward Loucks, Reina Maridza Maldonado, Glenda Chela Marrero, Mia Marie Marrero, Nicholas Joseph McCord, Leilah Rosa McKenzie, Justin Tyler Merritt, Dakota Miller, Evan Joseph Miller, Stephen Miller, Mackenzie Miluszusky, Hailey Minor, Liam Misko, Jason Morgan, Hunter Mursch, Guy Anthony Mushow, Rogemarie Jlu Navarrete, Nevaeh Marie Neubert, Amber Ogonowski, Jacob O'Neil, Joshua O'Neil, Carlos Orta Jr., Victoria Pagan, Isabelle E. Palmiter, Elizabeth Ariana Pantoja, Sarah Parry, Kyle James Parry, Mia Joanne Perri, Itiona Asunna Powell, Alexis Rae Price, Jonathan Prieto, Jonathon Purvis, Ian Skylar Quintana, Brielle Razderk, Donnica Jean Reese, Madison Regal, Michael Reilly, Jordyn Roberts, Roberto Romero, Blake W. Rude, Chloee Rumford, Haley Ryall, Paul James Salvatore, MaKena Sanderson, Nathen Shaw, Zachary Michael Siggins, Nevaeh Slockbower, Mackenzie Colleen Spaid, Kaylee Steele, Rylee Taylor, Madisyn Tellep, Austin J. Thomas, Damian Thomas, Joshua Tierney, Madison VanDeusen, Gaberial Matthew Wall, Robert Wall, Cayden Watts, Keefer T. Wease, Logan Matthew Wormuth, Cora Rose Wylie, Michael Yacinovich, Kevin Zintel, and Bryan Zuraski.