On Monday, May 9, Carbondale Area Softball honored its seniors and parents at the annual Senior-Parent Recognition Night ceremony. Four seniors were honored: Pitcher Sophia Calzola, Catcher Ellie Higdon, Third Baseman Deanna Holbert, and Right Fielder Victoria Pagan. They were honored before the game.
"Senior Recognition Night is always an emotional event, and in particular with this group of seniors who will be leaving some big shoes to fill," noted Coach Cobb. "These student athletes have faced unprecedented challenges during their high school sports career, yet have worked hard and persevered. They have proved that they can overcome obstacles and despite how much they will be missed at CA Softball, I am excited to see what great things the future holds for them."
The athletes will certainly miss the game of softball.
"Softball has always been a part of my life and I truly held it close to me. I'm going to miss being on that field with my girls," explained Sophia Calzola.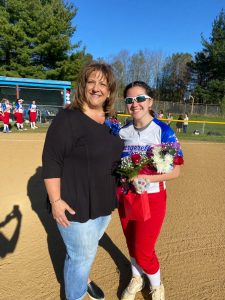 "I am extremely grateful for my time spent on the Carbondale Area Softball team," stated Ellie Higdon. "I would definitely not be the athlete or person I am today without my coaches or teammates. I will miss playing with my teammates and I wish them the best of luck in their future seasons."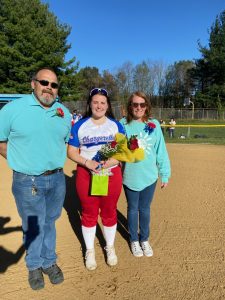 After the ceremony, the Chargerettes played a very competitive game. CA Softball's effort to come back from down seven runs in the fourth inning came up just short, as they fell 10-9 to Western Wayne.
Despite the shortfall for the win, the seniors really demonstrated their talent. The starting lineup for the Chargerettes included  Senior Captain Sophia Calzola at the mound along with Senior Captain Ellie Higdon behind the plate. In the field were Deanna Holbert playing 3rd base and Victoria Pagan in Right Field.
The Chargerettes managed nine runs in the failed comeback including contributing hits by Deana Holbert and Ellie Higdon plus RBI's from Deana Holbert and Sophia Calzola. Despite out-hitting Western Wayne eight to seven and putting up eight runs in the fourth inning, the Chargerettes fell short.
Overall, the seniors have a lot to be proud of from this game and from their careers. They are not finished yet; they play Holy Cross this Wednesday in the first round of playoffs. The Carbondale Area School District wishes the seniors and their families nothing but the best in the playoffs and in their future endeavors.