Our next senior highlighted for our Senior Spotlight is Anthony Mustica. Anthony is the son of Amy Pryle and John Mustica. He has one brother, Giovanni, a 2017 graduate of Carbondale Area.
Anthony is a six-year member of Student Council and served as the Junior Class President last year. He is a four-year member of Future Business Leaders of America (FBLA) and is a two-time state qualifier. Notably, this year he placed first overall out of every category in Region 22, which consists of ten schools in our area. Anthony is also a four-year member of the Spanish Club. He also works at his family business, Blueberry Hill Farm Greenhouses. His interests and hobbies include politics/government and working.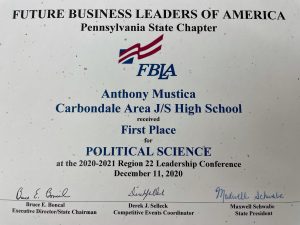 Academically, Anthony ranks near the top of the class as a six-year member of both Academic Honors and National Honor Society. His favorite subject is American Government and Economics. His favorite CA Memory is the summer reading video projects with Miss Wysocki and Mrs. Hardiman. Anthony's future plans are to attend college for a business-related major and be a major part in expanding his family's business. The Carbondale Area School District congratulates Anthony on his achievements so far and wishes him the best of luck in his future endeavors.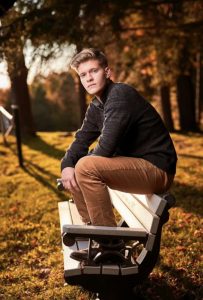 "Don't put off until tomorrow what you can do today." -Anthony Mustica, Carbondale Area Class of 2021 #CarbondaleAreaClassof2021