Donovin Loomis, a member of the Carbondale Area football team, is our next senior honored in our "Senior Spotlights" publication. Donovin is the son of Rhian Tate and Stephen Loomis. Donovin has two older brothers, Shaun Tate and John Loomis, two former Carbondale Area football standouts.
Donovin played both fullback and linebacker for the Chargers, where he was a two year starting defensive captain. As a fullback, he had 278 rushing yards on 25 carries for a very impressive 11.1 yards per carry average. He also had four catches for 52 yards (13 yards per reception). Even more impressive was his play as a linebacker. In his career, he amassed 258 tackles, 12 forced fumbles, 5 fumble recoveries, and 11 sacks. His favorite Carbondale Area memory is putting on his varsity football jersey for the first time.
Donovin attends the Career Technology Center in Scranton for Welding, which is his favorite hobby. His favorite subject is History. Donovin plans to attend college and play football. After college, he plans to serve his country in the Navy. The Carbondale Area School District congratulates Donovin on a stellar football career and wishes him the best of luck with his future plans.
"Courage is being scared to death…and saddling up anyway (John Wayne). Those are true words to live by." – Donovin Loomis, Carbondale Area Class of 2021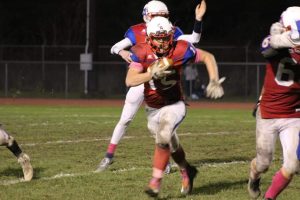 #CarbondaleAreaClassof2021