Our next senior featured in the Senior Spotlight for the Carbondale Area Class of 2021 is multi-sport standout Giana "Cheese" Arnese. Giana is the daughter of Jerry and Marlene Arnese; Giana also has one sister, Ashleigh, who is a seventh grader at the high school. Giana played golf each fall of high school and is a member of the basketball and track & field teams.
Giana was a two-year starter on the golf team. As a junior last fall, she went 6-9 out on the green. As a basketball player, she is four-year varsity member and is a three-year starter. She has 232 career points and plays as both a Guard and Forward each winter. She is back in action with her Chargerette teammates tonight at Old Forge. In the spring, she competes in track & field as a four-year varsity member. She is a sprinter/jumper and has primarily competed in the 100 Meter Dash, 4 by 100 Meter Relay, Long Jump, and Triple Jump. She has run a PR of 14.9 in the 100 and has jumped a distance of 29 feet in the Triple Jump.
Giana is also involved in academic teams and clubs. She has won regional and state awards as a six-year member of the Pennsylvania Junior Academy of Science (PJAS). She is a five-year member of Student Council and currently serves as Vice-President; she serves in the same capacity for the Senior Class of 2021. She is the Students Against Destructive Decisions (SADD) and Spanish Club President as a four-year member of each. She is a three-time state qualifier in Future Business Leaders of America (FBLA) and is a four-year member. Giana is also a member of the Prom Committee, Library Club, Yearbook Club, Physics Club, and Watershed. She is a three-year member of the Carbondale Chapter of Unico and has spent several years as a volunteer at her church picnic, Our Lady of Mount Carmel Feast. She is employed as a hostess and bus girl at Frank's Place and is also a secretary at NEPA Tax and Accounting.
Academically, Giana is ranked fifth in the senior class; as a result, she has held Academic Honors status here at the high school since seventh grade. Her favorite subjects are Algebra and Advanced Biology. Her favorite CA memories are fourth period study halls in the library and going caroling right before the holidays. Giana's future plans are to attend college and major in Exercise Science with a minor in Kinesiology and go back to school for Master's degree in Sports Medicine. The Carbondale Area School District congratulates Giana on her accomplishments thus far and wishes her the best of luck in her future endeavors.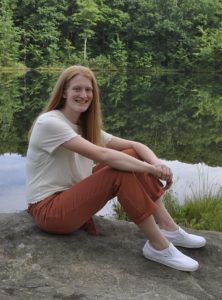 "Without any pressure, it's hard to do great things." –Giana Arnese, Carbondale Area Class of 2021 #CarbondaleAreaClassof2021