Our next Senior Spotlight is Chargers football player Jonathon "Jon P." Purvis. Jon is the son of Gina Bisignani and Bryan Purvis. He has two brothers- Domenick Purvis and Joey Bisignani. Jon (#75) has played football for four seasons and is a starter on the offensive and defensive lines. Jon's favorite CA memory is getting involved with the football team. He credits his freshman coach at the time, Coach Mike, for convincing him to come out for the team after a year of heavily recruiting him. Jon is happy he gave in because he has loved it ever since.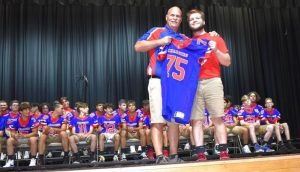 Jon also excels academically and in other extracurricular activities. He is a member of Academic Honors, the National Honor Society, and the High Honor Roll each year of high school. Notably, he has over 100% average the past two years. His favorite subject is math. Jon is also involved in numerous clubs and activities, having participated for four years in Future Business Leaders of America (FBLA), Spanish Club, and the Science and Technology Club. He has also worked at Weis Markets for nearly two years, where he stocks shelves in the dairy department. Jon enjoys lifting and playing basketball and video games in his free time.
Jon's future plans are to attend college. He has narrowed his major to two choices: become an orthopedic doctor or civil engineer. He also wants to learn to speak Spanish in the future and get involved in real estate in some capacity. The Carbondale Area School District congratulates Jon on his achievements so far and wishes him the best of luck in his future endeavors.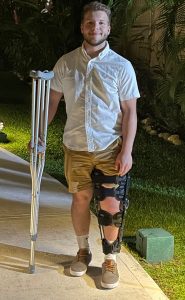 "Take every win you can, even if it is as small as making your bed in the morning." -Jonathon Purvis, CarbondaleAreaClassof2022 #CarbondaleAreaClassof2022