The second Senior Spotlight of the 2021-2022 school year is Charger Marching Band member Keefer Wease. Keefer is the son of Shelby Wease and Vicki Spicer. He has a little sister, Stevie Spicer.
Keefer is a member of the Marching Band here at Carbondale Area High School, where he plays the trumpet. He also serves as an officer- he is the Band Representative, where he is the liaison between the band members, the booster club, and the band director. He is a member of both Academic Honors and the National Honor Society. His favorite subject is Math.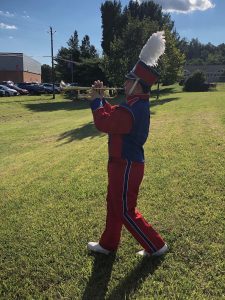 In addition to his Marching Band responsibilities, Keefer works as a manager at Taco Bell; he was promoted just after four months of working there. He enjoys skating and hiking with his friends. Keefer's favorite CA memory is riding home on the Marching Band bus after football games, noting that everyone is "excited and happy." His future plans are to attend a trade school with a long-term goal of working for the water company like his mom, most likely as a repairman. The Carbondale Area School District congratulates Keefer on his achievements so far and wishes him the best of luck in his future endeavors.
"The hardest part is to start doing something; after that, you just have to make it a habit." -Keefer Wease, Carbondale Area Class of 2022 #CarbondaleAreaClassof2022