Carbondale Area Varsity Softball finished their regular season schedule with a 1-0 win over Old Forge. Gianna Gallo had a walk off homerun in the bottom of the 7th inning to secure the win for the Chargerettes.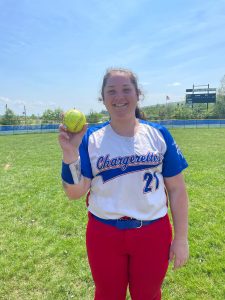 In addition to Gallo's game ending homerun in the bottom of the 7th, Kierra Borosky had a double and Ellie Higdon and Ashley  Escott each had a single.
Kelsch led things off on the rubber for Carbondale Area with catcher Ellie Higdon behind the plate. . Kelsch allowed one hit and no runs over 7 innings, striking out 10.
Going into the 7th inning, with the score at 0-0 the Chargerettes never let their defense fall. The starting field for the game included several defensive changes, but even with the changes, the gloves were hot for the Chargerettes. Putouts were all over the field, 2nd baseman Leila Esgo had 4 putouts, Kierra Borosky at Shortstop had 3 putouts, Audrey Cobb at 3rd had 2 putouts, and centerfielder Maddy Heenan and Left Fielder Deanna Holbert each had 1 putout. Ashley Escott played a solid 1st base and contributed to a double play at the bottom of the 5th.