The first Senior Spotlight of the 2021-2022 school year is Chargerettes Soccer Captain Alexis "Lexus" Price. Alexis is the daughter of Krea Moskosky-Price and Raymond Price. Alexis, who wears #1, is entering her final soccer season with the Chargerettes, where she has played Forward each fall during high school. Today, she will lead her team against the Holy Cross Crusaders. She also played youth soccer for the YMCA and was a member of both the Junior High and Varsity Track & Field team. Alexis has also been a member of both Unified Bocce and Track & Field during the winter and spring months.
"Alexis Price joined the Carbondale Area Girls Varsity Soccer team as an incoming freshman. Alexis' aggressiveness on the field, combined with her positive attitude and athletic ability, made her a key offensive player," noted Coach Monique Cobb, Head Girls Soccer Coach. "Alexis quickly claimed a starting position shuffling between the midfield and forward position. Alexis always plays the game aggressively, demonstrating her soccer talent and skills on the field. Alexis' exceptional soccer footwork was demonstrated game after game.  Going into her senior year, Alexis has earned the role of Team Captain. Alexis has contributed to 57% of the Shots on Goal for the Chargerettes and 14% of the team's overall goals."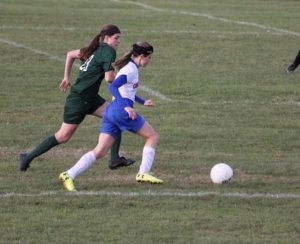 Alexis has also been involved in various extracurricular activities in her time here at Carbondale Area. She has been a tutor in the Future Teachers Club for the past three years, where she has tutored students before school in various subjects (both in-person and virtually). Additionally, she has been a member of the Student Council for six years, the Science and Technology Club for four years, Future Business Leaders of America (FBLA) for three years, Students Against Destructive Decisions (SADD) for three years, and the Spanish Club for two years.
Alexis is also involved with activities outside of school. She has danced for eleven years at the Dave Ragnacci School of Dance, Carbondale, where she has studied tap, ballet, jazz, pointe, and hip hop. She has also been an Acolyte at Saint Rose of Lima Parish, Carbondale, for ten years. She is employed by Pinky's Family Restaurant as a busser. She loves drinking iced coffee and enjoys being involved in school and community organizations.
Academically, Alexis is ranked near the top of her class. She is a six-year member of Academic Honors and the National Honor Society. Her favorite subject is Biology and her favorite CA memory is the time in tenth grade English class when the class pretended there was an earthquake taking place. Alexis hopes to attend Misericordia University to become a Physical Therapist. The Carbondale Area School District congratulates Alexis on her achievements so far and wishes her the best of luck in her future endeavors.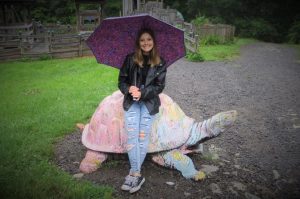 "A smooth sea never made a skilled sailor." – Alexis Price (quoted from Franklin D. Roosevelt), Carbondale Area Class of 2022. #CarbondaleAreaClassof2022